Description
Heavy Duty Fcar-F3-D Original Scanner
1. Language: English, Spanish, Russian
2. Support Cars: Domestic, European, United States, Japanese and South Korean Gasoline
3. Update: By Internet. Free Update for 1Year,after 1 year cost 300USD/year
4. Warranty: One Year
Fcar-F3-D Registration:
1.Login our website with registered username and password
2.Select System Activation under Member tab
3.Enter the System signature shown below
4.Generate an Activation Code on website
Fcar-F3-D Description:
F3-D is the newest version of multi-functional intelligentzed automotive scanner which is specialized to design for the diagnosis of diesel engine electronic control systems by Fcar Company. F3-D truck scanner adopts the advanced modular design technology which is capable of diagnosing and learning a variety of domestic, European, United States, Japanese and South Korean gasoline, diesel power system quickly and easily and is the most comprehensive testing system and testing models automotive fault diagnostic computer of world.
It provides multi-language platform to meet different customers' demands. Products with integrated structural design, to achieve 12V, 24V power supply automatical changover. single-track working mode and superlarge touch screen operation, exquisite look and so on, these special designs make you feel cozy and freely. It adopts smooth features drive technology and has good extensibility, which not only satisfies for the modern vehicle ECU communication bus testing, but also the vehicles appearing in the future.
Fcar-F3-D Function:
F3-D can diagnose all kinds of diesel control systems quickly and easily, especially available for Germany, Europe, America, Japan and Korea and so on,build-in high/low speed CAN-Bus to satisfy all Can-Bus vehicles;
Fcar-F3-D Package Parameters:
1. Products with Main Unit, Diagnostic Connectors, Testing Cables and other accessories attached
2. Overall size with Extra protection box) for 1pcs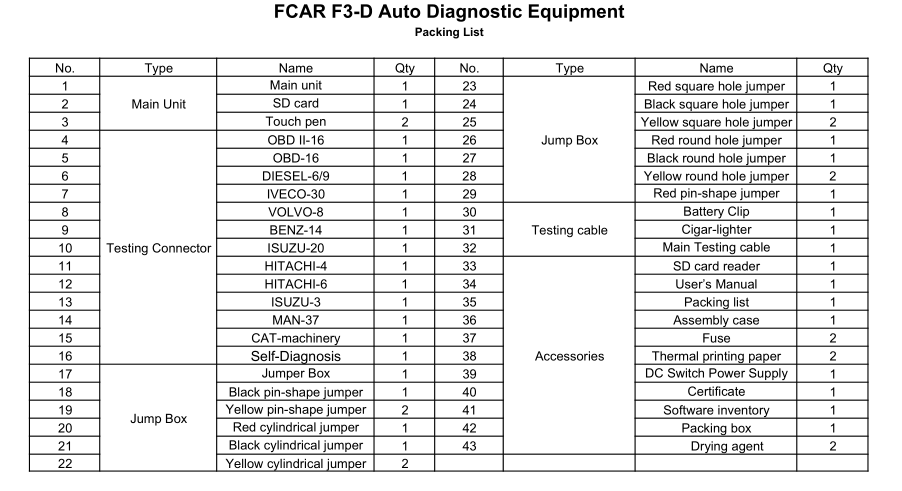 Contact us:
Please Make Sure You Leave A  Message At The End of  Email below for Fast Response or Reply.
And if nobody answers you online, sometimes, do not worry, leave us a message or write your desires, we will contact you as soon as possible. , We Will GET Back to you immediately.
Thanks for your Understanding.
Our office hours:
Am8: 30-PM11: 00
Contact Information.
Live Support: Chat with us online
Email: txsglobalstore@zoho.com
Sales@txsglobalstore.com
For Direct Live Chat: Visit Us @
Www.txsglobalstore.com