Description
[EU Ship No Tax ] 
Original ENIGMA Diagnostic Tools for Mileage and Data Speedometer & Odometer Correction Programmer software update Version. 3.76 With the Biggest Cover List of all Supported Models & A lot of FREE updates​ 
ENIGMATOOL UPDATE V3.74 + V3.76 Full Version Programmer Tools 
SAVE TIME – AVOID STRESS – GET NEW PROGRAMMING OPTIONS
BOOST INCOME – BEAT COMPETITORS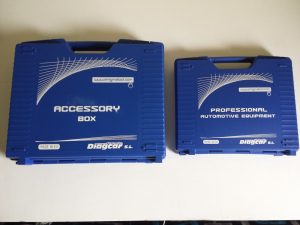 For sell is ENIGMA Tool – FULL version. It is the best in the world odometer correction programming tool.
It was very little used and is in Excellent condition almost brand new. Enigma is up to date, software update ver.V3.76
ENIGMA is fully operational and comes with all cables and adaptors as seen on photos. There are some extras.
ENIGMA cover the highest number of cars, trucks and bikes by OBD connector. It is ORIGINAL not Chinese clone.
---
The Brand New ENIGMA

ENIGMA is ready to ship for free.
GREAT ENIGMATOOL FEATURES
– Fast and safe programming
– Easy in use and well documented
– In-built eeprom/micro programmer
– Super Eraser 38080/35160
– Secured 912/9S12 in circuit
– Clear binary files (no encryptions)
– Speed signal generator (stepper motor tests)
– The biggest cover list of supported models
– A lot of FREE updates
– The best technical support
– Over 2000 PDF manuals
Enigma Tool Technical features
Works with newest car models;
Safe for tested / repaired electronic systems;
Reliable mode of operation;
Exceptionally simple, intuitive use;
Frequent software updates;
User can read and write the settings via the diagnostic connector (where available);
Professional construction;
Software updates available, activation of the software via the Internet;
Works with a PC via the USB socket;
User can back up data;
User has option to receive software on demand, client-requested;
12 V power supply, available in any car;
Small size (210 × 130 × 40);
Technical Specifications data:
power required: +12V
tester connectors: power +12V, system DB25, clip DB9, USB, ANT TAG, OBD2, DB15
8 input/output lines
2 interfaces CAN-BUS
2 transceivers 82C250
2 transceivers TJA1054
2 interfaces K-LINE
interface CCD-BUS
interface BDLC (J1850)
interface SPI (master slave)
serial port
PWM
integrated reader for transponders PCF7991
integrated reader for transponders TEXAS INSTRUMENTS
analog input port
integrated multiplexer OBD2
+12V output controlled with an electronic relay
adjustable +1.2 V ***** 5.5V output controlled by an electronic relay
very easy to read, color graphical display 320×240 5.7″
10 MB flash memory
4 MB flash memory for user's files
interface USB 2.0 Full Speed
control by touch-pad panel
wide tolerance of work temperature 24/ 7
adjustable contrast.
What is ENIGMA used for:
>> diagnosis of the electronic modules in automobiles and resetting the errors
>> change of km counter readings and repair of the counters
>> repair of airbag sensors
>> flashing engine computers through the diagnostic connector (DIAG TUNING)
>> unblocking TV tuners to work while driving
>> programming eeprom memory
>> programming micro controllers
>> programming RFID chipsets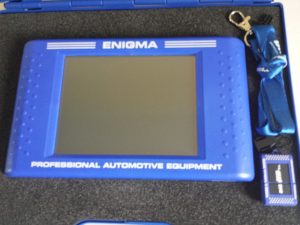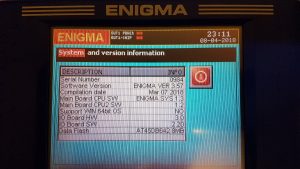 ENIGMATOOL HIGHLIGHTS
The most safe software for mileage and data programming on the mark
AUDI / SEAT / SKODA / VW 2014-2019 VDO EEPROMLESS OBD2 
AUDI / SEAT / SKODA / VW 2012-2017 VDO EEPROMLESS OBD2
VAG CARS NEC+24C64 2014-2019 OBD2 
AUDI A6/A7/A8 / VW TOUAREG / BENTLEY MULSANNE FULL OBD2 2019
PORSCHE CAYENNE / PANAMERA 2010- OBD2 / 918 SPYDER 2019- OBD2 
PORSCHE 911/991 2012- & PORSCHE MACAN 2014- 2019& PORSCHE GT4 95640 CRYPTO – DIRECT 2020
KIA K5 / OPTIMA / RIO /SPORTAGE / HYUNDAI SONATA / I20 / TUSCON / VELOSTER / SSANGYONG TIVOLI UPD70F35XX EEPROMLESS TFT DISP OBD2
SUBARU LEGACY / OUTBACK – CONTINENTAL 2015-2017 UPD70F3529 TFT EEPROMLESS OBD2
FORD MONDEO / S-MAX 2015- VISTEON SPC5606 + 24C32 – OBD2 *****
The biggest cover list
Check out our list of supported cars, bikes, machines and you will see EnigmaTool is the most powerful device on the market. Enigma covers models from Africa, Asia, Australia, Europe and both Americas.
Even 2020 models by OBD2
We do our best to bring you software for the newest cars and bikes. There are a lot of 2020 models covered by Enigmatool. Be always a step ahead of your competitors.
Read/Write data functions by OBD2
Most of Enigmatool software allows you to read and write data of instrument cluster data by OBD2. It's extremely useful function when you need to repair damaged instrument cluster data. Save time and get always backups!
Checksum Repairs
If you see on km display ERR, DEF or 999999 then probably checksum data is corrupted. In most of VAG software Enigma tool has special software that can automatically recalculate checksum and fix the problem.
Speed signal generator
Want to test analog gauges? Speed, RPM, fuel, oil etc.. all of them you can test with Speed Signal Generator available in Enigmatool. Also if you connect this signal to speed pin, you will increase km value without driving the vehicle. Easy but useful to get some files to compare and figure out mileage coding.
Free programs
We release the biggest ammount of free programs by eeprom and microprocessor. You can download the update compilation and install on your Enigma. Also if we add some improvments for existing payable software, you won't pay for them extra.
Safe programming
Using Enigma you are sure you won't damage any instrument cluster by it's fault. We don't have any critical updates and we don't clear flash memories as other companies do.
M35080 / 35160 eeprom eraser
Our Super-Eraser allows to read/write data of 35080 and 35160 memories on board or in eeprom socket. Safe for eeprom memories and fast erasing time.
Eeprom programming without desoldering
Over 90% of eeproms you will find in car electronics you can read/write without eeprom desoldering. You can also set voltage, swap data, make negation and edit ascii.
Secured 912/9S12 in circuit
Secured 912/9S12 processors programming with Enigmatool is easy and safe. Just 6 wires and you are ready to read/write data of instrument clusters, EZS, CAS and other modules.
Clear .bin files
Our programmer saves clear binary files. In that way you have full control over the files you read and write. You can build your database and share files with friends or partners.
Cables and adapters
Safe time and use our special cables and adapters for various instrument clusters, processors and memories. Full package contains 12 adapters and 33 cables.
Easy in use for beginners
You don't need any special electronic skills to use enigmatool. Enigmatool menu and programs are very intuitive. You will need only some soldering practice to use all Enigma possibilities.
Technical support
Many times small advice will help to accopmlish programming or save a lot of time. We support our clients with technical and electronic problems. Even if Enigma doesn't support something we can help with file calculation or figure out other solution.
Great and easy in use eeprom & processor programmer
Speed signal generator
A lot of free programs and reliable prices for premium software: