Description
Caterpillar Communication Adapter CAT ET 3 Diagnostic Tools Version: 538-5051
Caterpillar sis 2020 and ET 2020 Free
(Including Sis and ET 2019 Key Generator)
538-5051 CAT Caterpillar Communications Adapter 3 III Kit. It is the latest generation of the CAT Communications Adapter group, and takes the place of the CAT Comm Adapter III.
This is the only communication tool recommended for CAT, and it is the only data device that will allow you to communicate properly in a double database with a CAT engine.
This function is required for some CAT ET (Electronic Technician) functions.
CONTENT
J1939 / 11, DeviceNet (future version), CAT DataLink, and J1708 (ATA) vehicle networks, as well as service tools and engine controls that use various data links;
The Flash program allows adapter firmware upgrades when additional features are available;
J1939 / 11, which significantly reduces flash times, uses high-speed data link (part of ADEM III controls)
Automatically selects J1939 / 11 when the engine is flashing (reduces the flash duration from about 80% to 14 minutes to 3 minutes).
What it includes: Drivers to download USB Cable (from your device's computer)
CAT Comm Adapter III
CD
(From your device computer)
J1939 Cable (from your device)
Foamed Tip Hard Shell Case.
The TPX Power Supply provides quality Caterpillar diagnostic tools.
Type of catalogue: Caterpillar Electronic Technician Diagnostic Software
Make: Caterpillar
Region: WorldWide all region
Inclusive languages: English, Chinese, Danish, French, German, Italian, Japanese, Portuguese, Russian, Spanish
Features
Display, graph and log status parameters.
Retrieve prognostic data including histograms, engine totals for fuel used and miles traveled.
View active diagnostics and clear logged diagnostics. View events where irregularities have occurred and have been logged by the ECM.
Perform calibrations to enhance performance of the ECM.
Customize the ECM with application-specific settings.
Over 100 custom Diagnostic, Information and Service features including:
– 2D and 3D Histogram plotting capability (engine software support required).
– Custom Status screen groups
– Snapshots (Download and display snapshot data recorded by the ECM)
– Configuration Aid that allows upload/download of same configuration to multiple control modules
Customised Service Tool Options
Customized service tool name
Customized graphics for the splash screen and icons
Customized installation
Aftermarket differentiation, i.e., the tool for one customer does not work on the product of another customer.
Licensing options for customer management
Flash programming of the ECM(s)
Training demonstration allows familiarity with the tool's primary functions without connecting to ECM(s)
Perform customized diagnostic tests to identify harness problems, cylinder or component failures (Automatic Cylinder Cutout with cylinder to cylinder fueling comparison)
Caterpillar ET Software 2020A Function:
This diagnostic app allows you to:
View active and logged diagnostics.
View events where irregularities occurred and were logged by the ECM.
View the status of a group of parameters (temperatures, pressures, etc.) simultaneously.
Record and log performance data.
Graph a group of status parameters.
View the current configuration of an ECM.
Change ECM configurations.
Perform diagnostic tests.
Perform calibrations.
Print reports and diagnostic results.
Please keep in mind that some ecm settings for example, speed limit requires factory password. The factory password generator is not included in this application.
Original Factory Caterpillar ET3 Adapter III Compare With OEM Caterpillar ET Diagnostic Adpater III
1. Original Factory CAT ET can use once pluged, no need install the USB drive, the software can automatic realize it for ET3 Adapter, and the machine can automatic weld the high quality Circuit board, quality will be more reliable.
The OEM Caterpillar ET Diagnostic Adapter III need use USB Drive to install, and need choose the COM Port, and in the software ET also need choose ET2 then can be used.
Hardware
CAT Caterpillar ET Diagnostic Adapter III Main Board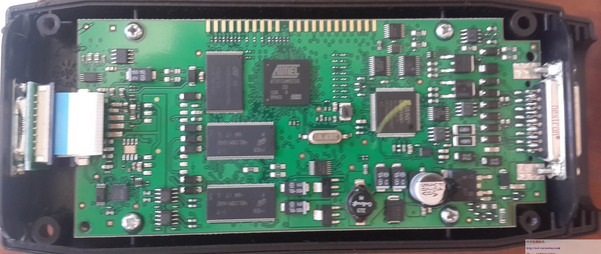 Hardware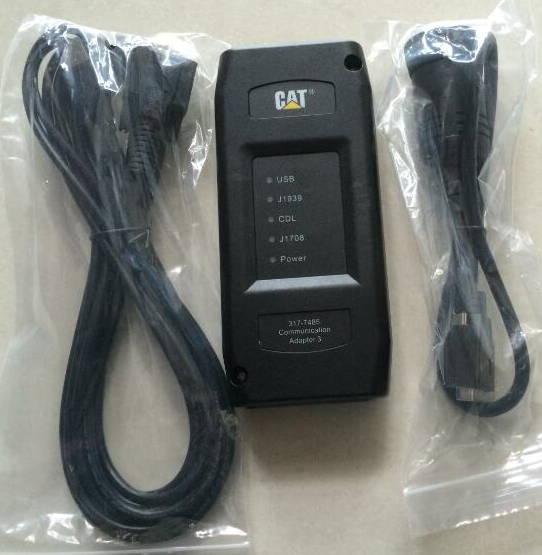 Package 1:
1.Real CAT et3 Comm Adapter III(it's best quality cat et 3,not adapter 2,please check Communication port)
2.USB Cable (From device to your computer)
3.J1939/J1708 9PIN Cable (from device to your truck)
4.6PIN Cable (for old truck)
5.14PIN Cable(for new truck,optional)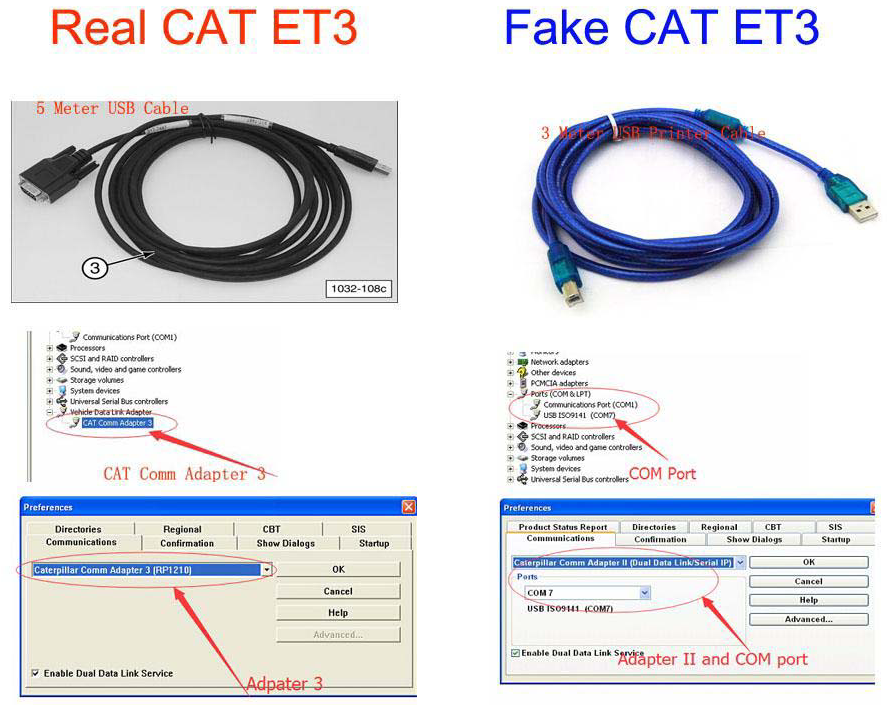 Shipping Method and Delivery Time:
US, UK, Amazon and Russia Shipping:
 3-5 working days. Fast Delivery No Tax.
DHL Shipping:
3-4 working days. Usually we declare a lower price on DHL invoice to help with customs clearance.
If your address belongs to remote area, customer will need to pay remote handling cost or we will change to ship by EMS.
Please remember to leave message if you have any special requirement.
Yanwen Express:
 5-10 working days. No Tax or remote cost for European Countries.
Standard Post: 
Order under $150 normally with default shipping Standard Post, customers can tick for Express Shipping Service to ship by DHL.