Description
Professional Intelligent Programming Charger ZLP100A
Professional Intelligent Programming Charger ZLP100A
Intelligent Programming Charger ZLP100A Feature:
1. All these function (battery capacity, rated voltage, services) clearly display on the screen, and can set up language via the screen.
2. All the charge data (electric current, voltage, AH etc.) display on the screen.
3. Based on the active inverter technology
4. The car ECU is so easily to be damaged once the battery voltage is unstable while you doing the ECU programming of your vehicle. Professional intelligent programming charger ZLP100A can be used to protect your ECU safety.
5. Automotive Power Processor Automatic Voltage Regulator delivers cost-effective and high quality power protection for many applications (Often times, it takes too long time to do vehicle ECU programming, the battery voltage usually is lower or higher than standard values due to electricity instability which might result sudden disruption during programming and cause damage to Vehicle ECU.) AUDI/VW/BENZ/BMW Automotive Programming Dedicated Power can prevents equipment damage from voltage fluctuations and transient surge.
Programming Dedicated Power Functions:
1. Smart Car Program
2. High temperature alarm.
3. Charging dedicated power
4. Short circuit and reverse polarity protection
5. Intelligent charger for motor vehicles starter battery
6. Extensive protection functions and self-protection functions
7. Intelligent charger for motor vehicles starter battery
8. Input voltage 220V only, Output Voltage 14V/100A. (The input voltage of 11V needs to be customized)
Protective function:
1. Reverse polarity protection
2. Overheating protection
3. Safety cut-off
4. Safety circuit

Application:
1.Standard charging mode: provide power supply during diagnosis
2.Auto programmed smart charging mode, suitable for BENZ, BMW, Porsche, and Audi.
3.Adopt active inverter technology to realize fast charge.
Applicable models:
Volvo, Porsche, Volkswagen, Audi, BMW, Mercedes-BENZ, General Motors Etc.
Technical data:
INPUT: AC 200-240V 10A 46-64HZ
OUTPUT: DC 14V 100A
POWER: 1600W
Input Specification:
1. Efficiency: 85%
2. Power Factor: 0.95
3. Frequency range: 40-60HZ
4. Rated input voltage: 220V (+/-20%)
Output Specification:
1. DC voltage: 14.5V
2. Rated current: 0-100A
3. Rated maximum power: 1500W
4. Ripple and noise: 100mVp-p
Protection Specification:
1. Over-voltage: 15V
2. Working temperature: -40 – +85
3. Safety: UL60950, TUV EN60950-1
4. Overload: 90-110% of rated output power
5. Withstand voltage: I / P-O / P: 3KVAC I / P-FG: 1.5KVAC
6. Insulation resistance: I / PO / P, I / P-FG: 100M Ohms, 500VDC/25 C / 70% RH
7. EMC: Complies with EN55022, EN61000
Package Including:
1set x Professional Intelligent Programming Charger ZLP100A
Related pictures: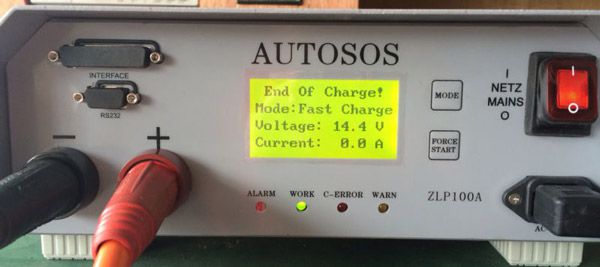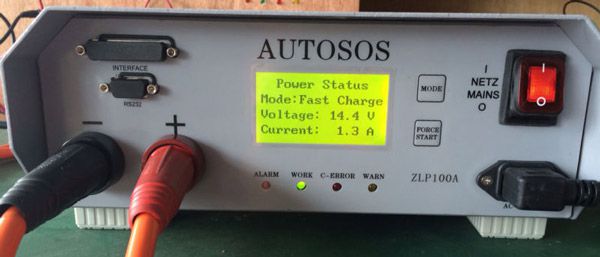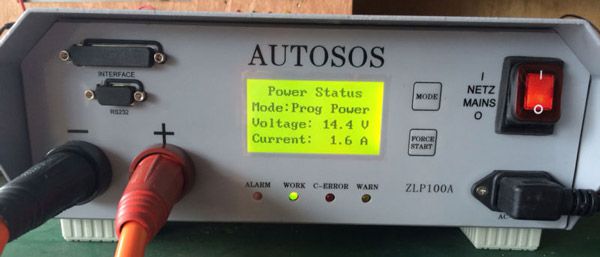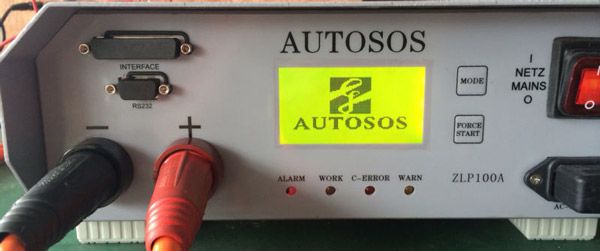 ---
Contact us:
Please Make Sure You Leave A  Message At The End of  Email below for Fast Response or Reply.
And if nobody answers you online, sometimes, do not worry, leave us a message or write your desires, we will contact you as soon as possible. , We Will GET Back to you immediately.
Thanks for your Understanding.
Our office hours:
Am8: 30-PM11: 00
Contact Information.
Live Support: Chat with us online
Email: txsglobalstore@zoho.com
Sales@txsglobalstore.com
For Direct Live Chat: Visit Us @
Www.txsglobalstore.com