Description
GM Tech2 Scanner for GM SAAB OPEL SUZUKI Holden ISUZU with 32 MB Card and TIS2000 Software
Item specifics.
Type:Cables and Connectors Automotive Diagnostic Systems Engine Analyzer
Make:For Opel For Chevrolet for holden for Suzuki For GM For ISUZU For Saab
Support:USB handheld
Languages:Japanese Portuguese French Italian German English
Voltage :12V
Power :9W
Service:professional
Warranty:one(1) year
memory card:free one
Perforance:stable
shipping:fast and timely
color:like photo
quality:superior
GM Tech 2 Scanner :
1. Full diagnosis for GM vehicles: GM/SAAB/OPEL/SUZUKI/ISUZU/Holden
2.car year coverage: from 1992 to 2013 and some new 2014 models
3.TIS 2000 software allows you to do programming
4. Carton package, save shipping fee,easy custom clearance.
5, Easy update via 32MB card
6, Multi-languages available
Highlight:
This TECH2 for GM with Carton box, Weight Only 3.2KG, Saving a lots of Shipping Fee and Make Customs Clearance Much Easier
Why Need to Buy ThisGM Tech2 Scanner?
1, Dianose for full car coverage: GM/SAAB/OPEL/SUZUKI/ISUZU/Holden from 1992 to 2013 and some new 2014 models.
2. Multi-languages available:English, Italian, French, Portuguese, German, Spainish, Korean, Japanese, Thai, Chinese.
3. Easy Update via 32MB memory card.You could buy the card seperately with free shipping for future update.
One card is included in the package by default, if you want to diagnose on more car brands, please check SO22-C.
Note that for Vauxhuall, please buy Vauxhall-Opel card.
4. Programming Tis2000 software. Tech 2 scanner can do programming for gm cars year until 2007. While support SAAB car programming until 2008 year.
For GM tis2000 programming, pleae check SO01
For Saab tis2000 programming, please check SO01-B
Please click here tocheck step by step instructions on ecu programming with Tech 2
5. Same function with SP23-B, yet cheaper price, because this tech 2 scanner comes with carton box
save shipping cost and solve custom clearance trouble.
6.
OPEL-English software
 update to 
V180,
support Cars Year from 1997 to 2014
Holden-
English
software update to 
V149
 version,
support Cars Year from 1999 to 2013
Notice:
1. It Can Only Support GM Cars, No Trucks
2.This package comes withone 32 memory card for free ,if you wanna do program ,need to purchase tis2000 USB Key alone
Comparison Of Tech2 Scanner
Comparison Of TECH2 Scanner
Item Number
Weight(kg)
Package
Card Including
Quality
Hot selling

SP23-B3

3.5
Carton Box

C Card (SO22-C)

Best

SP23-B
9.1
Plastic Box
C Card (SO22-C)
Best
SP23-C
9.1
Plastic Box
C Card (SO22-C)
Good
SP23-D
9.1
Plastic Box
C Card (SO22-C)

Good

SP23

9.1

Plastic Box

D Card (SO22-D)

Good

SP23-1
4.6
without Carrying box

D Card (SO22-D)

Best Price
All GM tech2 Scanner with same function ,just come from different factories and with different package
Tips:
All of them has the same function, their difference is coming from different factory and with different package box
There are 6 kinds of Tech2 on our website, they are SP23,SP23-B3, SP23-B, SP23-C ,SP23-D and SP23-1
All of them have the same function, their differences are :
SP23-B is the best Tech2 with Black Carry box, much more stable
SP23-B3 is the SP23-B with carton box and best quality
SP23,SP23-C is the same as SP23-B, it also includes the Black carry box, but comes from another factory.
SP23-1 is the most cost effective one,it is with carton box, will help you save much more money.
In summary
If you want to have a best quality and professional GM Tech2 Scanner, You can choose SP23-B
If you want to have a best quality but a little cheap one, you can choose SP23-B3
If you want to have a good quality and also much cheaper, please choose 

SP23-1
Tech2 Scanner for GMFeatures:
1) Tech 2 software Flash means the most comprehensive diagnostic software available for late model for GM vehicles.
2) Support for on-board diagnostics for all GM systems 1992 thru current year.
3) Removable hardware modules provide insurance against scan tool obsolescence.
4) Large, easy-to-read backlit screen.
5) RS232 & RS485 ports provide the avenue to connect future devices to your Tech 2 Flash.
6) Ability to capture stored DTCs, Freeze Frame, and Failure Record for later review.
7) Ability to view the status of vehicle diagnostic tests as they run.
8) Bi-directional The authentic for GM 1992-current year software will provide full bi-directional control when performing power train, chassis, and body diagnostics.
Tech2 Scanner for GM Software Version:
GM
GM-English 33.004 1991-2014 (Newest software)
GM-German 32.008 1991-2013
GM-Spanish 32.008 1991-2013
GM-Japanese 32.008 1991-2013
GM-French 32.008 1991-2013
GM-Thai 32.008 1991-2013
GM-Portuguese 32.008 1991-2013
GM-Korean 32.008 1991-2013
OPEL
OPEL-English V180 1997-2014 
(Newest software)
OPEL-Italian 133.001 1997-2012
OPEL-German 85.001 1997-2008
OPEL-Spanish 91.001 1997-2009
SAAB
SAAB-English 148.000
Holden
HOLDEN-English  V149 1999-2013
SUZUKI
SUZUKI-English 01.210.020
ISUZU
ISUZU-English CAN-BUS 107.021 2010- (CAN-BUS support car models after 2010)
ISUZU-English K-Line 11.62 1996-2013 (K-line support car models from 1996 to 2011)
(If you want ISUZU software, please tell us you want CAN-BUS or K-line)
Tech2 Scanner for GM Card Opel Software Update to V180 ,Working with Cars Year from 1997 to 2014
Tech2 Scanner for GMSpecifications
1) Microprocessor: 32 bit,16 MHz
2) Memory: 32 MB flash type II PCMCIA. Type III slot available for future expansion.
3) Communications: Integral RS232 communication port.
4) Screen: 3.8.8 backlit monochrome with full graphics capability: 320,40 pixels. Displays up to 9 vehicle parameters at once .Download Tech2 Brochure (5.2 Mb)
An industry change in protocol from OBD II to Controller Area Network (CAN) has begun. In order to perform diagnostics on a vehicle that uses the CAN interface;
You will need the Tech 2 Flash and a CAN diagnostic interface module. The module connects between the Tech 2 Flashs diagnostic link cable and the OBD adapter.
Once the module is connected, it can be used for GM vehicle applications,even those vehicles using other platforms such as OBD I and OBD II.
The following GM vehicles utilize the CAN interface
05 Buick Allure (3.6L)
05 Buick LaCrosse (3.6L)
05 Buick Rainier (5.3L)
04-05 Buick Rendezvous (3.6L)
04-05 Cadillac CTS (3.6L)
04-05 Cadillac SRX (3.6L / 4.6L)
04-05 Cadillac XLR (4.6L)
05 Cadillac STS (3.6L / 4.6L)
05 Chevrolet Cobalt (2.2L)
05 Chevrolet Corvette (6.0L)
05 Chevrolet Equinox (3.4L)
05 Chevrolet TrailBlazer (5.3L)
05 Chevrolet SSR (6.0L)
04 Chevrolet Malibu (Body/Chassis only)
05 Chevrolet Malibu (3.5L)
05 GMC Envoy (5.3L)
05 Pontiac G6 (3.5L)
05 Pontiac GTO (6.0L)
05 Pontiac Pursuit (2.2L)
3. Dimension:55CM*50CM*19CM
Tech 2 Scanner for GMConnection with Candi interface Picture: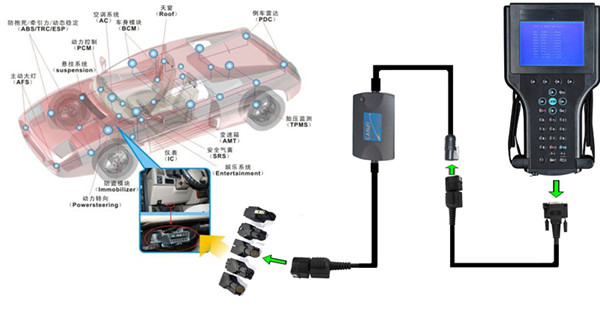 Tech 2 Scanner for GMConnection without Candi interface picture: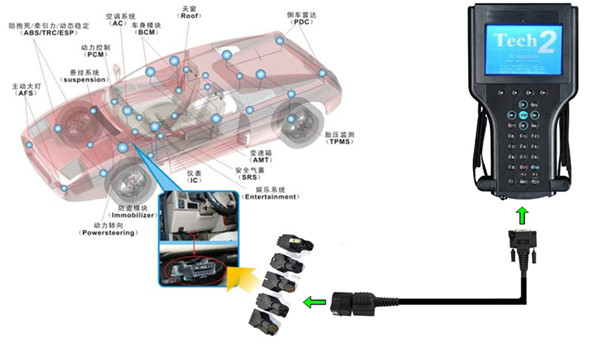 Tech 2 Scanner for GMDetailed Pictures: 
Tech 2 Scanner for GM
and GM MDI Comparision:
Content
GM Tech 2 SP23, SP23-B, SP23-B3, SP23-C

GM MDI

 

SP163
Language
GM-English, German, Spanish , Japanese, French, Thai , Portuguese, Korean
SAAB-English
OPEL-English, Italian , German,Spanish
HOLDEN-English
SUZUKI-English
ISUZU-English
Multi-language: English, French, German, Japanese, Italian and so on.
Total 30 languages to choose.
Update
Via 32MB Software Card
can not update
Activation
no need active
yes
Advantage
cannot plug original software card, but can support original program
can support software from original factory
OS requirement
no need connect to the PC
Win XP only
Internet connection
no need connect to the PC
can not connect to the internet then install the software, because once connect internet, it will remind you update the software
Support Car Model
Cannot support truck, only for cars, Support all GM systems 1992 thru current year. such as GM/ SAAB/ OPEL/ SUZUKI/ ISUZU/HOLDEN
MDI can test all GM car from 1990-2012 year.
Support programing
support reprogramming, but need to use with TIS2000 together
support offline program,such as chevrolet,opel, but not for all cars
OFF-LINE CODING IS ALSO POSSIBLE (online is, per time fee)
All cables are the latest versions with full support.
We are an established company.
Free technical support available by appointment.
.
All software will be pre-installed for you.
The system is built to order and delivered READY TO USE. 
All cables supplied will be brand new.
TXS Global
We supply all manner of diagnostics setups
for cars and trucks.
Contact us if you have any queries.
DISCOUNTS FOR CASH/BANK TRANSFER/WIRE PAYMENTS AVAILABLE or MULTI BUY. Contact us.
Delivery:
We will deliver your products as soon as possible after confirming with your payment.
All items had been tested before shipping
please give correct post code to avoid delay of shipment
Russia customer needs to provide full name, normally it have three name
please provide English delivery address
Tax:
We can declare in lower value to help you avoid tax, if you have any idea about this , please tell after paid
buyer is responsible to clear customs and pay tax if any when goods arrive their country,  our price does not include tax in your country,
thanks
Returns:
We do our best to serve our each customer the best that we can.
We will refund you for items returned within 7 days of you receiving them, for any reason.
A full Refund will be given if items are returned in their original condition.
Merchandise which is damaged or missing components is not refundable.
Buyers are responsible for return shipping with proper packaging.
On receiving items, we will refund you immediately.
Warranty & Maintenance:
We provide 1 year warranty, Buyers are only responsible for the return shipping fees for warranty items. As soon as we receive the items,
we will repair or exchange them ASAP.
Feedback:
Your positive feedback will be highly appreciated once you get the items and satisfied with them. Also we will be very glad to return you the
positive feedback. Thank you!
Contact us:
Our office hours:
Am8: 30-PM11: 00
The Leave A you the make the Sure Please the Message for the FAST AT at The Email below the Response or Reply.
And if nobody answers you online, sometimes, do not worry, leave us a message or write your desires, we will contact you as soon as possible. , We Will GET Back to you immediately.
Thanks for your Understanding.
Contact Person: Johnson Damus
Email: txsglobalstore@zoho.com / sales@txsglobalstore.com
For WhatsApp Business Only: +44 (777) 4210-234