Description
Launch X431 V+ HD3 HD III Truck Module Cars & Trucks Diagnostic Tool supports car and Heavy Duty Truck 2 in 1
Top 8 Reasons to Get Launch X431 V+:
Supported Languages: English, Italian, German, Japanese, Russian, French, Spanish, Portuguese, Polish, Turkey, Dutch, Greek, Hungarian, Arabic, Denish, Korean, Farsi, Romanian, Serbian, Finish, Swedish, Czech.
Wi-Fi: Supported
Bluetooth: Supported
One click update: You do not have to download software to memory card anymore, can do one click update directly through your machine.
There is User Manual in the Multiplexer, you can check it when you use the device. It is in "cnlaunch" file
Two Years Free Update Online, After Two Years, It Cost 450usd/year,  if you don't want to update, the old software can still work too
Supports about 69 car brands from USA, European, Asian and so on.
No Software download IP limitation: Oversea download and update available
LAUNCH X431 HDIII HD3 Module
Main Features: 
Wireless Bluetooth Diagnosis Host machine and diagnostic connector adopt Bluetooth connection, making diagnosis more convenient.
Support various car models: 34 car Brabds software, support more than 60 car models. Moreover, the software is being continuously developed.
Industrial shockproof design Industrial shockproof design is perfect for the working environment in repair shops.
Various configurations are available for selection Suppose you are going to purchase heavy-duty truck diagnostic tool, you must choose X-431 V+, X-431 PRO3 or X-431 PAD II as host machine. If you have already bought X-431 V+, X-431 PRO3 or X-431 PAD II gasoline configuration, now you want to test truck, just buy a heavy-duty truck module.
Full comprehensive diagnostic software functions.
6.Wide diagnostic software coverage. Accurate test data. Software based on Android, matching with more diagnostic hosts.
Launch X431 HD3 Functions:
Identification of control units
Adaptation of control units
Reset service intervals
Reading vehicle data streams
Display of current system parameters
Check actuators
Reading and erasing vehicle fault codes
Full 11 Special Functions:
Oil Reset Service
Steering Angle Calibration
Electronic Parking Brake Reset
Battery Register &Battery Maintenance
ABS Bleeding
Electronic Throttle Position Reset & Learn
Diesel Particulate Filter (DPF) Regeneration
Tire Pressure Monitor System Reset
Tooth Learning
Anti-theft Matching: This function can protect your car from being stolen by clearing the lost car key information and programming the new key into the ECU database. Also known as keys programming.
Injector matching
Other Functions:
Active Test
Active test is to test output elements. You can figure out whether a specific subsystem or component in your car functions well or not by using this tool to make the tester outputs function instead of checking in ignition status.
Technology Backup
You can get remote control tech support from LAUNCH tech team by sending one-click recorded videos and accurate diagnostic results to them. Also, the one-click update online feature is quite convenient.
Launch X431 V+ car support list: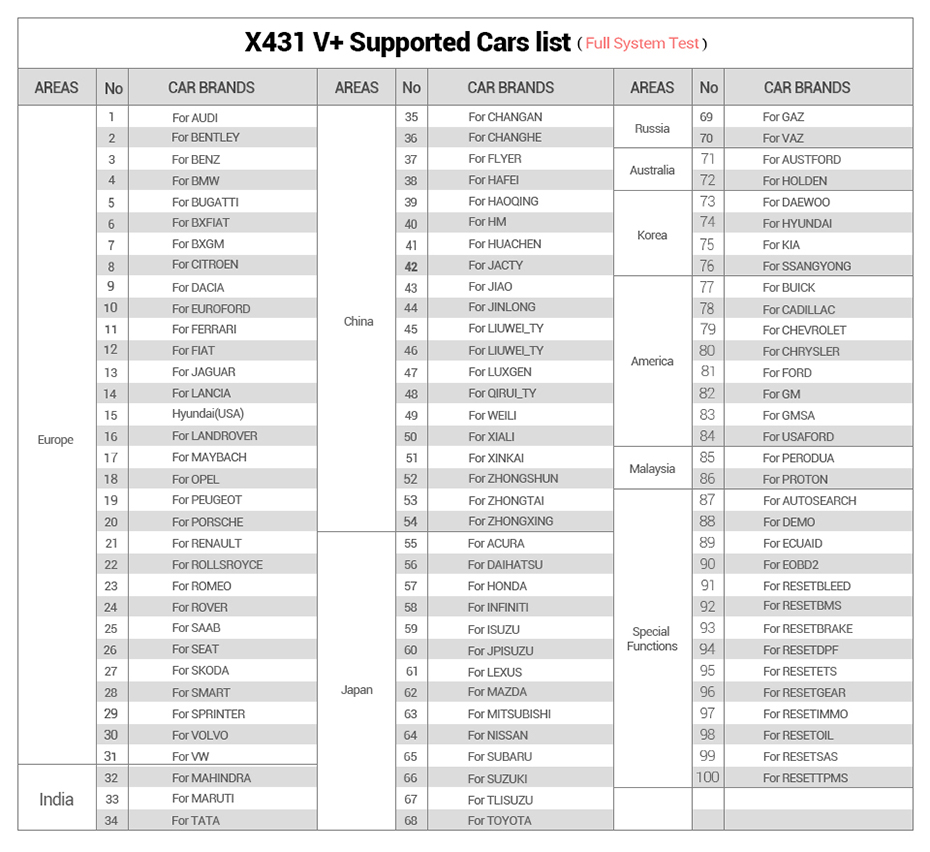 Launch X431 HD3 Supported heavy duty vehicle list:
Europe:
MERCEDES BENZ
MAN
VOLVO
SCANIA
IVECO
DAF
RENAULT
US:
Freightliner
INTERNATIONAL
Kenworth
PETERBILT
STERLING
WESTERN STAR
MACK
DETROIT
CUMMINS
Asia:
HINO
FUSO
ISUZU
UD
HYUNDAI
X-431 V+ Product Parameters:
Pannel Computer Parameters:
CPU: HUAWEI HiSilicon Quod-core 1.2G HZ
Screen:10.1 inch Multi touch capacitor Screen
Screen Resolution:1280X800
Operation system:Android4.0
Memory:1G
Storage:8GB
Battery:Polymer Lithium-ion battery, 6600mAh
Camera :0.3M pixels front , rear 3.2M pixels
Operating Temperature :0°C~+45°C
Storage Temperature :-10°C~+45°C
Launch X431 V+Package List:
LAUNCH X431 HDIII HD3 Module List: